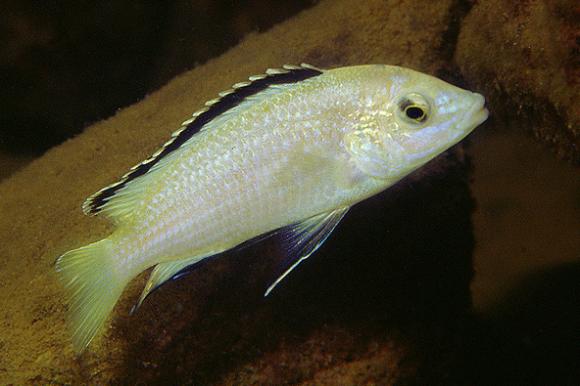 White Lab
$10 – $12
Discount

When you Purchase

Discount

5% Discount Applied
3 - 5

5%

$

10
10% Discount Applied
6 - 11

10%

$

9
15% Discount Applied
12 +

15%

$

9
Size
Color
Stock
Price

( 1.5" )

Premium Unsexed
Stage 2 - Nice Transitional Color

8 in stock

$

12

( 1.5" )

Premium Females
Stage 4 - Guaranteed Pretty Color

3 in stock

$

10
Stage 2 - Nice Transitional Color
Premium Unsexed 1.5"
(8 AVAILABLE)
Stage 4 - Guaranteed Pretty Color
Premium Females 1.5"
(3 AVAILABLE)
Description
General Information & Care
Additional Information & Care
Want to Learn More?
Description
Labidochromis caeruleus
Etymology: The name "caeruleus" stems from Latin, meaning blue. This is a nod to the stunning bluish reflection this fish exudes when taken out of the water.
Common Names: In the United States, this fish goes by several names including Electric Yellow, Labidochromis Black Dorsal, Labidochromis Blue, Labidochromis Tanganicae, Labidochromis White, Labidochromis Yellow, and Labidochromis Zebra.
Diagnosis: The Labidochromis caeruleus stands out from other Labidochromis with its distinctive white and/or yellow body color. Males and females both occasionally have a black band along the top fin. This fish's pearly white or golden yellow hues are a rarity among its kin.
Size: In the wild, both genders can reach up to roughly 4 inches. In aquarium settings, they can grow slightly larger.
Origins: Native to Nkhata Bay in Lake Nyasa (known today as Lake Malawi), this fish has a wide distribution in the lake, especially on its western coast. The Yellow Labidochromis, a variant, is primarily found on the northwestern shores of Lake Malawi. Its yellow hue isn't consistent throughout its range; some populations are pure white, while others exhibit a mix of yellow and white.
Habitat: This fish is found along rocky coastlines, usually between depths of 33 to 165 feet. It's quite elusive in the wild, preferring the safety of caves and crevices. They feed off the undersides of rocks, and when in shallower waters, they're often spotted dining from cave ceilings.
Diet: Its diet comprises small crustaceans, insects, and their larvae. The fish's long and pointed teeth function like pincers, adeptly pulling prey from tiny cracks in rocks.
Breeding: There's little to no difference in coloration between males and females. Unlike other cichlids, territorial males of this species are not commonly observed in the wild. They spawn wherever they meet, without a designated territory. After spawning, the female retreats to the rocks, where she likely releases her young. No observed cases exist of females tending to their free-swimming offspring.
Aquarium Care: These fish are among the smaller cichlids from Lake Malawi and can coexist peacefully with other Malawian cichlids, provided they aren't viewed as prey. In captivity, non-territorial behaviors observed in the wild can shift, with males sometimes defending small territories. A balanced gender ratio is recommended for tanks. Ideal aquarium conditions include a water pH level between 7.0 and 8.5 and temperatures ranging from 73.4 to 82.4°F.
Trivia: In the late 70s and early 80s, a remarkable event led to the discovery and subsequent popularization of the Yellow Labidochromis. Its vibrant color, combined with a unique backstory involving divers and fish exporters, has made it a favorite among aquarists.
General Information & Care
Additional Information & Care
Want to Learn More?